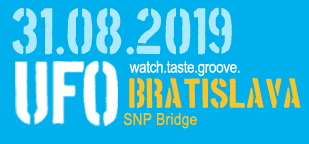 Organizer Contact Details:
Storm promotion, s.r.o, Štefánikova 1
811 06 Bratislava, info@ufoverticalsprint.sk
Join us on Facebook
Bratislava will be the setting for towerrunning again. The number of competitors is limited to 300 runners!
Casual, but also professional athletes will have a unique chance to measure their strength in the rare towerrunning this year as well. The seventh year of UFO vertical sprint event will be held on Saturday, 31 August 2019 in the capital of Slovakia, where contestants will have to run up the stairs to the Bratislava "flying" saucer UFO watch.taste.groove. on the SNP Bridge. Contestants are being awaited by a challenge in the form of 23 floors and exactly 430 stairs. Applications are welcome from all sports enthusiasts who want to test their form or just try the otherwise closed stairs to the UFO.
Besides the registered runners doing a lot for their health, they will also take part on a race, which has a long tradition in the world. Runners have been conquering skyscrapers, towers and external stairs for several decades. Up to 250 similar races attended by around 140 000 runners take place during a year worldwide. This year is the UFO vertical spring included in the Czech-Slovak Towerrunning Cup 2019. More information at www.towerrunning.sk. At the same time is UFO vertical sprint the final race of Towerruning 120 Bratislava and part of Towerrunning Tour 2019 under the Towerrunning World Association. This is the main reason a high participation of world class towerrunning athletes is expected.
One of the goals of UFO vertical sprint is to create a tradition for this sport in Slovakia and at the same time to give a chance to everyone to try this unconventional discipline. The number of competitors is limited to 300 runners. Timer starts by running out of the start line (the UFO Beach - about 50 m from the pylon of the SNP Bridge) and stops by achieving the objective on the viewing terrace, located on the 23rd floor. As a matter of interest, the last year´s winner – Tomáš Čelko - reached a time way under two minutes!
More info at: www.ufoverticalsprint.sk and www.towerrunning.sk
Stairs Up!
Watch the UFO Vertical sprint video, by stairs, by elevator.
---